Previously in Your Best Month
Here are some books to read, films to see, and more culturally relevant recommendations to enjoy while you're not protesting for basic human rights.
To make every month better, follow us on Facebook + Twitter + Instagram + Pinterest.
Zonzo by Joan Cornella available February 7
Joan Cornella has had a great few years, transitioning from cultishly adored cartoonist with a rabid online following to Wilco album cover designer seemingly overnight. Zonzo is the second collection of his subtly psychedelic, hallucinatory work, featuring 50 all-new wordless tales of violence, depravity, and brutal coincidence. -Matt Byrne
Norse Mythology by Neil Gaiman available February 7
Lots of people are big fans of Neil Gaiman, lots of people like mythology, and lots of people will read whatever they can find about Thor and the rest of the Norse pantheon Marvel made famous. So this book will do well. But whether or not you want to read it, know the publisher's description refers to this book as "an instant classic," includes the term "bravura rendition," and was almost definitely written by someone who has read American Gods three dozen times. -Trisha Brown
The Refugees by Viet Than Nguyen available February 7
It's sort of amazing that Viet Than Nguyen found the time and energy to put together a collection of short stories, given how busy he's been collecting awards – including the Pulitzer Prize – for his 2015 novel The Sympathizer. But find the time he did, which is great news for us. Nguyen, who before The Sympathizer was exclusively a non-fiction writer, is one of the most important voices in the book world right now no matter what form he chooses.
Lincoln in the Bardo by George Saunders available February 14
George Saunders is one of our finest living authors, and boy are folks stoked for his first full-length novel, which follows a slew of novellas and short story collections released over the last two decades. Lincoln In The Bardo is a fictionalized account of Abraham Lincoln's struggle with the death of his 11 year old son. Sounds heavy but also probably not as heavy as you'd expect, considering this is a Saunders work! Great! -Matt Byrne
Tinder Live @ The Bell House February 4
This is both exactly how it sounds and nothing like you're thinking. Hosted by comic/writer/musician Lane Moore, Tinder Live is just that, but it's also a hilarious look at some of your favorite Tinder tropes (DUDE ON A MOUNTAIN. DUDE WITH KIDS WHO MAKES SURE YOU KNOW THOSE AREN'T HIS KIDS) and Lane Moore is fucking hysterical. Swipe right on this show. -Jenn Tisdale
It's A Guy Thing Fundraiser for Planned Parenthood @ Union Hall February 10
In addition to being a super solid lineup (Mitra Jouhari, Hamm Samwich, etc.), ticket sales will benefit Planned Parenthood. (A WIN-WIN-WIN-WIN-WIN.) -Megan Burns
Found Footage Festival @ The Bell House February 24
The Found Footage Festival returns brand-new for the first time since 2014, and I couldn't be more stoked! This year's show features clips from David Letterman's VHS Collection, a montage of satanic panic videos from the 80s, and 10 years of bloopers culled from a North Dakota news team. ALL GOOD THINGS, so grab tickets now. -Megan Burns
Oh, Such A Good Show, Oh! Fundraiser for Planned Parenthood @ Union Hall February 24
Yet another great opportunity to get your LOLs in while benefiting Planned Parenthood! The lineup includes funny humans like Jo Firestone, Mitra Jouhari, Ziwe Fumudoh and MORE, and tickets are just $8-$10 a pop.
The Lure theaters February 3
Ummm…hi, this movie is self-described as a "mermaid horror musical comedy"…do I need to explain the appeal further? (If so, please get out of my life.) If you were having any reservations about it, just watch the trailer and I guarantee you'll be a convert. To say I'm excited is a major understatement. (Like, congratulations, Poland…you have significantly improved my outlook on this year.) -Megan Burns
The Comedian in theaters February 3
The Comedian has been in production in one way or another since 2011, with Martin Scorsese originally attached to direct Robert De Niro as an aging insult comic who starts dating a woman half his age, who teaches him about life. Wow. Scorsese bailed and Sean Penn (Sean Penn!!) came on board to direct soon after, with Kristen Wiig as the love interest. Then Jennifer Aniston but she left and was replaced with Leslie Mann who is actually in the movie. All these women were cast as someone who was supposed to fall in love with a mean 73 year old man. Sean Penn didn't end up directing it, that task to Taylor Hackford who also did An Officer and a Gentleman, Ray, and something called Love Ranch which is what I say when someone asks me what kind of salad dressing I like. Anyways the trailer for this movie looks insane and mentions on like six different occasions the act of "going viral." -Matt Byrne
The Lego Batman Movie in theaters February 10
I still haven't seen Suicide Squad. (I could already tell I would be disappointed with it after my heart was so full watching that one post-Comic Con trailer.) Anyway, the moral of this story is that The Lego Batman Movie is going to kick Suicide Squad's ass, and will also be (I assume) a source of much-needed feel-good vibes in 2017. I have no reservations about this movie. Go see it. If you hate it, you can yell at me. I will not refund your tickets, but I will feel sad about your taste level. (PS, do you think if it was called The Playmobil Batman Movie we wouldn't be in our current horrible situation? PPS, if you think our current horrible situation is not horrible, I would swipe left on you v. hard if we saw each other on Tinder.) -Megan Burns
Lovesong in theaters February 17
Welp, the queer baiters have got me again, but I'm hoping it will be worthwhile // although I never know how to feel about Jena Malone, I feel 100% good things about Riley Keough, and as they will be exploring the complexities of female friendships and/or more-than-friendships I will be present for whatever transpires. (If nothing else, it looks like it was beautifully shot. I can appreciate that in spite of other potential letdowns.) Will it outdo that one movie (Jack and Diane) where Riley Keough played a gay werewolf? I mean, probably not, but at least we can all agree that Juno Temple is (like Bed-Stuy) a person that people keep swearing will happen but just never fully does. (Sorry not sorry this got tangential.) -Megan Burns
Get Out in theaters February 24
Early reviews of Jordan Peele's Get Out have been very positive and seem to confirm that it follows through on the creeping menace and cutting satire hinted at in the film's very cool looking trailer. Everyone's calling it Guess Who's Coming To Dinner meets Stepford Wives or whatever and honestly that's fine with me. -Matt Byrne
Rock Dog (ROCK DOG!!!) in theaters February 24
I saw the trailer for Rock Dog like three times this weekend and I still can't tell you what it's about. Released last summer in China, the US release of the film features Luke Wilson as the film's titular Rock Dog: the Dog who Rocks, Eddie Izzard as an aging rock star who is also a kitty cat, and Lewis Black as an evil corporate executive who is also a wolf. The animation looks about as good as a video game cut scene and overall the thing just seems like one of those movies that's built backwards from the inevitable full cast dance party ending. Love you Rock Dog! -Matt Byrne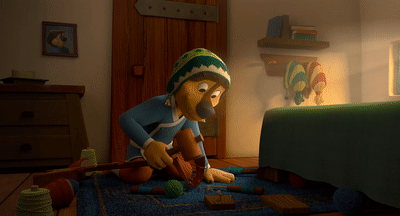 Restaurant Week through February 10
Restaurant Week runs through the first weekend in February. Tons of restaurants are participating. $29 for lunch, $42 for dinner, Saturdays excluded and Sundays optional. GODSPEED.
Muna + Lo Moon @ Bowery Ballroom February 22
Just fifteen bones for a ticket to this cracker of a show! I've been obsessed w/ Muna for a while, and Lo Moon has become a fairly recent favorite. Highly recommend all of it to stave off your February blues.
Oddisee The Iceberg available February 24
Rapper-producer and D.C. native Oddisee is a favorite on these pages, and for fair reason: he's one of the most intelligent, lyrically-gifted contemporary rappers, with an ear for a catchy melody and challenging song structures. "CounterClockwise", from 2015's The Good Fight, is incredibly gripping and dynamic – partly due to it's clever use of space and sound within a 5/4 time signature (which as you might imagine, isn't precisely commonplace in popular music). -Jose Lopez-Sanchez
Pissed Jeans Why Love Now available February 24

Noise rock charmers Pissed Jeans are back with more aggro odes to the crushing mundanity of day-to-day life with the all new Why Love Now, co-produced by the legendary Lydia Lunch. Track names like "Have You Ever Been Furniture," "Activia," and "(Won't Tell You) My Sign" have me real excited for this collection of petty complaints and attacks on modern masculinity. -Matt Byrne
Japandroids @ Vic February 15, Terminal 5 February 23, 9:30 Club February 27 and 28
I got into Japandroids in the summer of 2012, around the same time everyone else did. Their album Celebration Rock was singularly devoted to a simple idea: that rock and roll catharsis is the most important thing in their world. Their shows are like that, too: I saw them play the day after the June 2012 Derecho. It was one of the hottest day of the year, and since The Rock and Roll Hotel already feels cramped, the sweaty crowded made the room so hot and muggy that I thought the guitarist was going to pass out. He didn't, and instead played one of the most intense, and best rock shows I've ever seen. Japandroids new album isn't as anthemic as their last one – how could it be? – and yet I fully expect to feel that young, wild, and ultimately exhausted when they finally play D.C. again. -Alan Zilberman
Spy in the Wild premieres on PBS February 1

Spy in the Wild is a new nature documentary miniseries that features footage culled from over 50 spy cameras embedded inside animatronic animals that were set out to chill with the real life versions of those animals. I bet there's gonna be both some really awesome and interesting shots and then also some real quality first-person footage of these things getting completely torn apart by their confused/threatened peers. -Matt Byrne
Detroiters premieres on Comedy Central February 7
The long-awaited premiere of Comedy Central's new series Detroiters is upon us. The insanely talented Veep ensemble member Sam Richardson co-stars with former SNL cast member Tim Robinson as a pair of friends struggling to live their dreams as part-time actors living in Detroit. -Matt Byrne
The History of Comedy premieres on CNN February 9
From CNN: This new CNN Original Series explores what makes us laugh, why, and how that's influenced our social and political landscape throughout history.
From Jenn Tisdale: I hope this makes me love comedy again.
Girls returns to HBO February 12
If her experience campaigning for Hillary Clinton is any indication, actress/writer Lena Dunham shouldn't quit her day job. …Oh no! She has: this is the final season of HBO's Girls, among the network's more bisecting of shows. Many, many people hate the half-hour comedy for its unabashed white privilege and spoiled, selfish characters. The rest of us think they're missing the point: this satire dares to explore self-discovery and -actualization among the most bubbled of Brooklyn bubble-dwellers. With season 6, I hope for more of the same. The journeys are real — no matter the navel-gazing — and the dialogue crackles and burns.
Yes, I hate the characters on Girls, too. And I can't wait to see what they do this year. -Tristan Lejeune
Big Little Lies premieres on HBO February 19
HBO's miniseries based on Liane Moriarty's runaway bestselling mystery comedy, Big Little Lies, could go really well. Or it could be a real shitshow. Reese Witherspoon is the driving force, and the cast (including Nicole Kidman, Shailene Woodley, Zoe Kravitz, Adam Scott, and Alexander Skarsgård) is solid. Those are good signs. The trailer indicates the setting has been moved from Australia to Califorina, and it has almost no hints of the book's humor. Those are bad signs. Truth be told, I'll watch either way. The quality will only determine how fervently I subtweet it. -Trisha Brown
+++++++++++++++++++++++++++++++++++++++