In like a lion, out like a lamb that's about to be eaten by a lion. March begins with a 76° day and leaves with a 61° day because it's opposite day everyday in 2017. Though the world is melting, we still need art, film, music and more. Here are 31+ reasons March will be your best month yet.
To make every month better, follow us on Facebook + Twitter + Instagram + Pinterest.
There I Go Again: How I Came to Be Mr. Feeny, John Adams, Dr. Craig, KITT, and Many Others by Williams Daniels available March 1

William Daniels has had a very interesting showbiz career and you can read all about it in his new autobiography. Daniels shares anecdotes from across his 75+ year career (??!!??) on stage and screens both big and small. This will definitely be a good one! Feeny!!! -Matt Byrne
The Best We Could Do by Thi Bui available March 7

The upcoming graphic memoir The Best We Could Do, the first book from author Thi Bui, follows her family's escape from South Vietnam in the 1970s, coming to America in search of a better life. The book is gorgeously illustrated and has been praised for its deeply felt storytelling and unique take on the immigrant experience. -Matt Byrne
South and West by Joan Didion available March 7
In 9 out of 10 cases, reading someone's diaries is the same as hearing about his or her dreams: boring as hell. But if there's anyone out there whose notebooks are probably pretty damn interesting and well-written, it's Joan Didion. South and West is drawn from Didion's diaries of a 1970 road trip through the south, as well as notes she made on the American west in 1976 while she was meant to be reporting on the Patty Hearst trial. If you're at all interested in someone's random thoughts on the America of the 1970s, you're going to want Joan Didion to be that someone. -Trisha Brown
The Moth Presents All These Wonders by Catherine Burns available March 21

Hugely popular storytelling series The Moth celebrates their 20th anniversary with a new collection, The Moth Presents All These Wonders. The book collects some of the most memorable, thrilling stories told live on stage by pros like Louis C.K. and Tig Notaro and everyday folks alike, into a 45-story compendium of "true stories about facing the unknown." Grab this one and file it away for a Christmas gift for that NPR lover in your life! -Matt Byrne
Logan opens March 3
I already know I am going to cry very hard during this movie. (I have cried very hard during the trailer since I first saw it before Rogue One.) The kid looks like she's going to slay as Laura, and I'm already a devoted Logan and Prof. X fan, so BRING THIS TO ME NOW. (I am going by myself on Friday at 1:30 p.m. You do not even know the level of excitement.) -Megan Burns
My Scientology Movie opens March 10

My Scientology Movie has been on my radar for a year or two, since it began making waves on the film festival circuit in 2015. British documentarian Louis Theroux brings his singular, adventurous approach to covering dark and unusual real world subjects to the shadowy world of the Church of Scientology, who are characteristically unstoked have nosy journalists poking around. Fans of the off-the-rails muckrakery of Tickled are in for a thrill! -Matt Byrne
Personal Shopper opens March 10
The words "Kristen Stewart" may be polarizing AF, but I AM A FAN (so long as she's not dating Annie Clark) and am stoked to see how her performance goes. It's an added bonus that there will be ghosts involved, because I am v. fascinated by the idea that something else exists beyond this life // STRING THEORY FOR THE WIN. -Megan Burns
The Sense of an Ending opens March 10
Listen, I am mainly on board for this because Charlotte Rampling is involved, and I am fucking obsessed with Charlotte Rampling. But also, based on the trailer, it looks like it was beautifully (and interestingly) shot, so I'm excited to see the results, and I'm also interested to see how this complex story unfolds via letters from the past.
Beauty and the Beast opens March 17
The 1991 animated film Beauty and the Beast captivated a generation of children with its clear moral, talking houseware, magic mirror, and dimwitted villain. Many of those children are now savvy adults who've realized that the cheery musical is actually a pretty problematic tale of Stockholm syndrome, and they (we) are warily anticipating this month's live-action Beauty and the Beast remake. Seems kind of impossible to tell this story in a way that's empowering and feminist, but if anyone can do it, it's Emma Watson…right? -Trisha Brown
I, Olga Hepranova opens March 24
Ummmm this movie looks bat shit in the best possible way. It's based on the real life crimes of Olga Hepranova, who drove a truck into a fuck ton of senior citizens in Prague in the seventies and claimed it was an act of revenge for how the world (and her family) had treated her. I'm amped on the black and white treatment, and feel like it's going to for sure be a worthwhile watch. -Megan Burns
Wilson opens March 24

Daniel Clowes graphic novels have been translated to the screen in the past with varying degrees of success (Ghost World is the best, while Art School Confidential is mostly fine!), but I've got high hopes for the forthcoming adaptation of Wilson. The book immediately became one of my favorite Clowes works when it was released in 2010, and I'm feeling pretty good about the cast (Woody Harrelson! Laura Dern! Cheryl Hines! Judy Greer!) and like Ghost World and Art School Confidential before it, Clowes handled the script himself. Fingers crossed! -Matt Byrne
The Boss Baby opens March 31
The Boss Baby is an animated movie about a baby who is a boss. Alec Baldwin voices the boss boy and I have no idea what this movie is about but I am a big fan of it already and hope that it's the start of a new Bad X/Dirty Y type thing so we can go see The Boss Dog and The Boss Car in a few years! -Matt Byrne
By Cale
Starting March 1, LEGO brings the new collectible (and very cute) line of Brickheadz to their ever growing toy and pop culture empire. Originally a Comic Con exclusive, these Funko inspired (rip-off) figures are now available to the masses in all their bobble-headed glory. Clearly aimed at completists, the sets are both numbered per item on the box and series on the base. Featuring MCU versions of Iron Man, Black Widow, Hulk, Cap, and LEGO Batrman Movie versions of Batman, Robin, Batgirl, and Joker, plus Belle & Beast, it's hard not to find at least something you want to display on your desk, that is until Series 2 adds in some Pirates of the Caribbean. Each pixel-art inspired 2″ set is $9.99. Here they are in descending order of adorableness:
Real Estate In Mind available March 17

I've been a fan of Real Estate for ages and they have yet to disappoint across three intricate, blissed-out albums of cerebral, guitar-driven pop. Each successive release has been more polished and refined than the one that preceded it and based on the excellent pre-release single, "Darling," this trend will continue with their fourth LP, In Mind. I'm especially intrigued to hear what producer Cole M. Greif-Neill, who has worked with similarly lush, pop-leaning folks like Julia Holter, Beck, and Nite Jewel, will bring to the table. -Matt Byrne
At The Drive In @ 9:30 Club March 20, Terminal 5 March 22
HOLY SHIT HOLY SHIT HOLY SHIT this time they're actually back (*crosses fingers, places offering to all the saints/the Virgin Mary, burns some palo santo*). I was a little too young to enjoy At the Drive In during their original run and incarnation, but any kid with a guitar, an ear for punk rock, and a hyphenate last name knew that these guys were the truth. Get ready for some searing guitar solos, complex song structures, and frenetic moshing. Also – this isn't really a show for casual fans. Everyone else there is going to know every obscure lyric and riff, so maybe sit this one out if you're not already into ATDI, Sparta, or The Mars Volta. -Jose Lopez-Sanchez
Mount Eerie A Crow Looked At Me available March 24

Mount Eerie's Phil Elverum recently lost his wife to pancreatic cancer, just a year after the birth of their first daughter. His new album, A Crow Looked At Me, is a stripped-down collection of songs recorded in the room where she passed, using primarily her instruments. The album is a plainspoken look at grief and the process of coping with unimaginable pain, with minimal production and no use for flowery metaphor or complicated themes. It's not an easy listen, but it's a monumental achievement from this massively talented songwriter whose personal life is rarely reflected so directly in his work. -Matt Byrne
Aimee Mann Mental Illness available March 31
Goddamn, there's not much to live for in 2017 (sorry, too bleak?) but if there's one thing, it's a new Aimee Mann record. The last time we heard from her LP-wise was back in 2012 with Charmer, and from what I've heard so far, she's the same genius as ever. Please hurry up, March 31st. -Megan Burns
Tei Shi Crawl Space available March 31
Tei Shi is incredible, and I can't believe she's only just now putting out her debut LP, but THANK GOD! It'll be available via Downtown Records, and I suspect it's going to be on heavy rotation considering I already listen to Verde daily. Further evidence:
-Megan Burns
The Last Man on Earth mid season premiere March 5
I feel like not enough people talk about how good The Last Man on Earth continues to be. They took a seemingly dead-end concept and built out a consistently interesting, unpredictable world with a real strong cast and goofy setpieces. Season three returns after a mid season hiatus that began in December and I'm excited to see where it goes! -Matt Byrne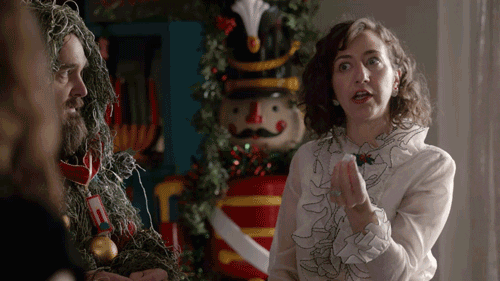 The Americans season premiere March 7

You can always tell the best show on TV at any given time: it's the one that makes the week seem longest. Last year's (so good) season of The Americans (soooo good) was on the same time as some great shows (Game of Thrones, The People vs. O.J. Simpson), but Wednesday-to-Wednesday was the most agonizingly slow way to measure seven days.
It's been pointed out to me that the Reagan-era D.C. stalked by Keri Russell and Michael Rhys's KGB travel agents is a lot like Narnia under the White Witch — always winter but never Christmas. But the March 7 premiere, called "Amber Waves," looks to bring a summer into the picture. And season 5 of this spy vs. spy drama comes with some killer concept art, too.
The nail-biting, pulse-pounding and wig-swapping has moved to Tuesday nights. So now Tuesday-to-Tuesday will feel like forever… -Tristan Lejeune
Samurai Jack season premiere March 11
There's little I consider appointment viewing these days. More often than not I have TV on in the background while I'm reading or working or even listening to music (which probably sounds confusing but if my laser-like focus isn't sufficiently diffracted, it's entirely possible someone or something might catch on fire.) But with Archer premiering next month and the new season of Rick and Morty left to the whims of the inscrutable robot overlords currently programming Adult Swim, the only TV in March I'd call "must see" is the long-awaited fifth season of Samurai Jack. The March 11 premiere revives the story of Genndy Tartakovsky's time-traveling, misnamed samurai fighting evil in a world in which evil has grown all-encompassing. Samurai Jack falls into that rare class of cartoon ostensibly made for kids, which you'd never want children to watch (but would want promising young art students to study as though their lives depended on it.) The simple, elegant storytelling sometimes relies on careful visuals ("Samurai vs. Ninja,") occasionally on brilliant sound editing and Foley work ("Jack and the Three Blind Archers,") and sometimes simple humor ("Jack Learns to Jump Good.") It's been over a dozen years now, but I'm ever so happy there will be a concrete end to the story. -Jeb Gavin
Review season premiere March 16
Review is an incredible piece of work, perhaps the crowning achievement of the staggeringly talented character actor Andy Daly. The first two seasons of the show had some of the most mind-bogglingly uncomfortable scenes ever recorded, escalating the concept of "cringe humor" to heights that are frankly too much to bear for many viewers. The show's third and final season is sure to pile more oppressively bleak humiliations onto the show's intrepid host, whose conceptual tunnel vision sees through even the most brutal scenarios for the sake of rating and reviewing a myriad of human experiences.-Matt Byrne
Nintendo Switch available March 3
I'm almost thirty years old and I'm literally giddy with excitement over this dumb console that I have to spend $300 of my hard earned money on. Nintendo always does this to me. They get me pumped up, and they make me poor. I'll never learn. Pre-orders have been sold out for months, so in true Nintendo style, there'll almost certainly be supply issues that forever tarnish what could otherwise be a successful launch. Select Best Buys will be doing midnight launches, so get there at like 5 p.m. and you should be good. -Norm Quarrinton
The Legend of Zelda: Breath of the Wild available March 3
Nintendo have–once again–completely overhauled Hyrule for the Switch's most anticipated launch title. It looks like diehard Zelda fans will be plenty satisfied, but Nintendo clearly wants to reach a new audience, which is why they've dragged Link kicking and screaming into the next generation by borrowing gameplay elements from incredibly successful RPGs like Skyrim. It's hard to talk about a game that has yet to be released (and is under a strict embargo), but if the footage we've seen so far is any indication, TLOZ:BOTW will be an immersive and imaginative action packed adventure. Like a playable Miyazaki movie. -Norm Quarrinton
Mass Effect Andromeda available March 21
It would be a stretch to call Mass Effect Andromeda a sequel to 2012's Mass Effect 3. It takes place in the same universe, but no characters from the original series are in it, and it's set in a different galaxy some 600 years later. None-the-less, if you're a fan of the franchise, Andromeda looks like it will definitely scratch the Mass Effect itch you've been suffering from since Shepard and his crew did whatever it was they did in whichever ending you got when you beat the third game. -Norm Quarrinton
++++++++++++++++++++++++++++++