October may be the greatest month in NYC. It's got Halloween, better weather and playoff baseball, plus here are some of our favorite books, shows, albums and more to make it your best month.
We Were Eight Years in Power by Ta-Nehisi Coates available October 3
When Ta-Nehisi Coates' last book, Between the World and Me, came out, it had a hell of an impact – and back in 2015, hardly anyone who read it thought we were in the end times. Now the landscape has shifted in many ways, but if his recent Atlantic essay is any indication, Coates' frank and accessible style hasn't changed in the least.  -Trisha Brown
Manhattan Beach by Jennifer Egan available October 3
Jennifer Egan's Visit From A Goon Squad was a game-changer: a smart, unsettling, sometimes very funny book that covered loss, self-destruction, re-invention and technology in a way that even six years later will still feel incredibly visceral. So, to say that my (and everyone else's) expectations for Manhattan Beach are high, is the understatement of the month. The story of Brooklyn Naval Yard's first female diver and the complicated relationship she has with her father is the premise for Egan's first historical novel, and with promises of "noir thriller atmosphere" and a cast of characters that include "gangsters, sailors, divers, bankers, and union men", we have our pre-order in. – Svetlana
Monograph by Chris Ware available October 17
A self-described "flabbergasting experiment in publishing hubris," Chris Ware's Monograph is a career-spanning memoir that features droves of unreleased material, sketches, photos, interviews, and other ephemera. Even casual fans of Ware's knotty, hyperdetailed graphic novels will find something compelling here, the dude can't help but make even the most mundane details of everyday life compelling and complex. -Matt Byrne
Capital Gaines: Smart Things I Learned Doing Stupid Stuff by Chip Gaines available October 17 
Who among us haven't thrown on Fixer Upper in the background in a relative's living room for hours at a time, desperate for something inoffensive and pleasant to have on in the background while you catch up before Thanksgiving dinner. We've all been there. Anyways Chip Gaines, the dude from this insanely popular home renovation show wrote a memoir and this is exactly the kind of under $20 gift that is perfect for that one family member who is way more into the show than the rest of them. You know who I'm referring to! -Matt Byrne
The Florida Project in theaters October 6
The Florida Project is the new movie from Sean Baker, whose last film, Tangerine was shot entirely on an iPhone, and, more importantly, was an extremely good and compassionate exploration of the experiences of marginalized people. This new one looks to be similarly empathetic, though shot on real movie cameras this time around. It's set in a Florida motel, owned by Willem Dafoe. A character played by Willem Dafoe, not the dude himself. -Matt Byrne
The Killing of a Sacred Deer in theaters October 20
Greek filmmaker Yorgos Lanthimos has a real knack for crafting unsettling, surrealist universes within fairly small movies. Like The Lobster and Dogtooth before it, The Killing of a Sacred Deer looks like a deep dive into the damaged psyches of weird, repressed characters going through some bizarre shit. This is gonna be a weird one! -Matt Byrne
Frida Sundemo Flashbacks and Futures available October 6
I've actually already pre-ordered this one, because that's how ultra-hype I am on Frida Sundemo; her cinematic electro-pop tunes go above and beyond the standard of impeccable Swedish exports, and I'd be lying if I said I haven't spent the last few weeks listening to the tracks that have been released so far on repeat. If you're not on this train yet, now is for sure the time to drink the Svenska Kool-Aid. -Megan Burns
The Weather Station The Weather Station available October 6
The Weather Station's put out a handful of EPs and full lengths over the last 10 years or so and they're all incredible in different ways. Their latest, self titled LP, is the most fully-realized work to date, a collection of fleshed out folk gems, full of evocative imagery and affecting observations. -Matt Byrne
St. Vincent MASSEDUCATION available October 13
If recent media coverage is any indication, Annie Clark, aka the multi-instrumentalist Polyphonic Spree survivor known as St. Vincent, is thinking a lot about her image. But with her fifth studio album, the follow-up to 2014's universally acclaimed self-titled effort, due out on October 13, the rest of us are thinking more and more about her sound.
St. Vincent, the album, and St. Vincent, the blossoming pop star, are so joyously messy and experimental — think Kate Bush with an addition to good hooks, or Tori Amos on laughing gas — that October's MASSEDUCATION would sound like a departure even if it stuck to the script. First singles "New York" and "Los Ageless" show some bi-coastal range, and don't be surprised if the album is literally all over the map. Also, Thursday was the Oklahoma native's birthday. Happy birthday, St. Vincent! … what did you get us? -Tristan Lejeune
P!nk Beautiful Trauma available October 13
There are two kinds of people: people who recognize that P!nk is one of the standout musical artists in recent decades and dummies I want nothing to do with. If her 47 million albums sold or the pop perfection of songs like "Who Knew" and "Raise You Glass" don't sell you on it, surely her performance of a medley remix of her songs and her good-luck-not-tearing-up acceptance speech when she was given the Video Vanguard Award at the VMAs this summer will remind you. Beautiful Trauma is her first new album since 2012 – the first single is out now – and I think I speak for all of the non-dummies when I say "welcome back." Trisha Brown
Bully Losing available October 20
The follow-up to debut LP Feels Like, this sophomore effort was engineered and mixed by Bully frontwoman Alicia Bognanno, and will deliver all the good, grungy angst you could ever hope for. It feels like a more mature Bully that simultaneously hasn't aged a day, which is the best case scenario. -Megan Burns
Destroyer Ken available October 20
Dan Bejar's Destroyer project is responsible for some of the most brilliant, overstuffed, and rewarding albums of the 2000s, and their new album, ken, looks to be similarly compelling and weird. This dude is easily one of the most underrated songwriters going. -Matt Byrne
John Maus Screen Memories available October 27
Ariel Pink collaborator and semi-outsider artist John Maus released We Must Become the Pitiless Censors of Ourselves in 2011 to widespread critical acclaim, and then just more or less went away for a bunch of years. Our dude John is back with Screen Memories, a new collection of subversively serious synth pop jams. -Matt Byrne
Julien Baker Turn Out the Lights available October 27
We don't deserve Julien Baker, you guys. She is SO GOOD IN SO MANY WAYS. This latest record (featuring strings and organs in addition to her guitar) will, as she says, "advertise the capacity for empathy," and we sure as hell could use a lot more of that in 2017. -Megan Burns
Washington Nationals Playoff Baseball
On March 29, 2017 I wrote, "Major League Baseball's greatest year was 2016. 2017 will be better. It might be the Washington Nationals best chance to win a World Series for a very long time." I was right! Too bad the Chicago Cubs are going to eliminate the Nats next week. Go, Cubs, go! -Brandon Wetherbee
NWSL Championships
The semi-finals of the 2017 NWSL season will happen this coming weekend (October 7 and 8), and we'll see Orlando Pride face the Portland Thorns on Saturday, while the Chicago Red Stars will play the North Carolina Courage on Sunday.
Unfortunately our fair cities of D.C. and NYC won't have representation (Sky Blue FC had a decent season thanks to Sam Kerr, but in the end it wasn't enough to get them through, while the Washington Spirit had a DISMAL time at the bottom of the barrel, even with the acquisition of USWNT's Mal Pugh), but the matches should still be fun to watch if you're a women's soccer fan. I'm a little bummed that the Pride and the Thorns will face off in the semis, because those are my teams (minus the Seattle Reign // I can't bear to talk about their so-close-yet-so-far season) and I'd have liked to see them face off in the final, but on the plus side, I'm at least guaranteed to have someone to route for (provided I can find a live stream of Lifetime day-of) right up until the bitter end.
In terms of who I predict to make it to the final, I'd love to see the Pride get in there since they seem to have FINALLY hit their stride (it'd be tough not to with players like Marta, Alex Morgan, Ashlyn Harris and Ali Krieger), but my money is on the Thorns since Tobin Heath is back to round out their VERY strong roster, which includes Nadia Nadim, Hayley Raso, Allie Long, Meghan Klingenberg, Lindsay Horan and more. And while Christen Press always pulls things out for the Red Stars, I think the Courage will seal the deal in that game. WE WILL SEE! -Megan Burns
Curb Your Enthusiasm returned October 1
You know what you're gonna get with a new season of Curb Your Enthusiasm, more or less, but man, what you get is so consistently good and painfully funny. Welcome back, LD. -Matt Byrne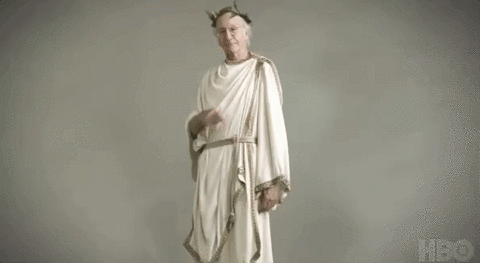 At Home with Amy Sedaris premieres October 24
Singularly brilliant comedian Amy Sedaris loves crafting. She loves to craft and to entertain, and has written a series of acclaimed books about such topics, using her manic charm to share valuable tips and tricks to make cooking, throwing parties, and making handmade gifts seem accessible and, more importantly, not lame. Her new show, At Home with Amy Sedaris expands on the concepts she's explored over the last ten years or so, using "imaginative characters and unique point of view to create a rich world that showcases her diverse – but necessary – homemaking skills," in TruTV's words. -Matt Byrne
Stranger Things season 2 available October 27
I binged Stranger Things the weekend it came out last year, and I suspect I'll do the same this time around, though I can't lie, I'm more than a little preoccupied that S2 might find itself in the too-much-of-a-good-thing boat; the first season was so, so, SO magical, but will all the hype blow up in the show's face? I sincerely hope not, but will walk into this new batch of episodes with the same (but different) skepticism as I did when I had no idea what to expect in the first place. FINGERS CROSSED.
At the very least, we know the soundtrack will still rule. -Megan Burns
++++++++++++++++++++++++++++++++